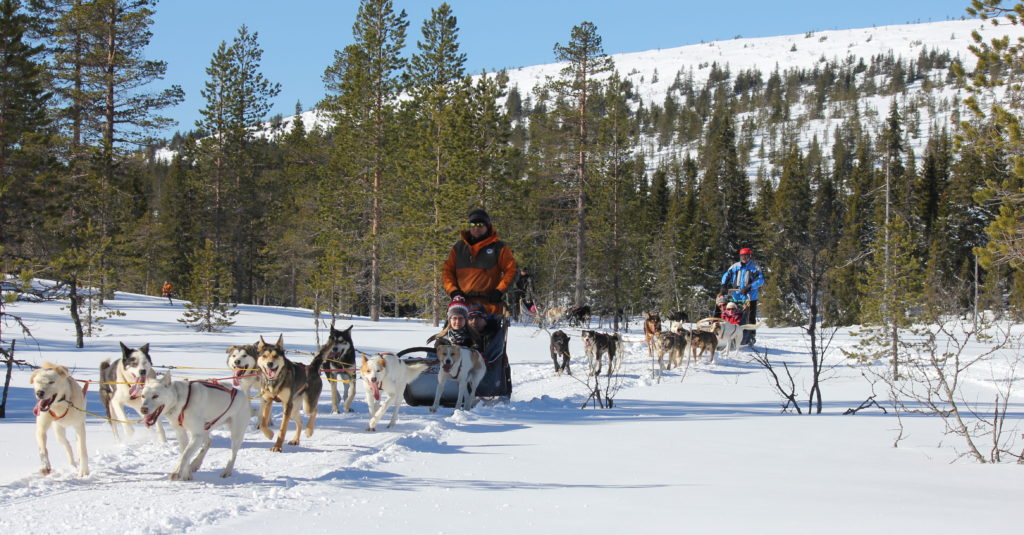 Grövelsjön 3 days 17-19 april 2020
Program
Join us for a true winter experience with the expedition feeling in Grövelsjön's beautiful mountain massif.
You get your own team of 4-6 genuine Alaskan Huskies who will be your best friends during the tour. You will notice that these dogs are both fantastically hardworking and friendly and cheerful and who really appreciate a pet and a kind word.
The day stages are between 25-40 km so you really get to know what it is like to be a dog team driver.
The trip is on three days with 2 nights and mainly goes on the mountain area north of Grövelsjöns Fjällstation.
The first stage goes up to Hävlingen and we pass Storvätteshågna (1204 meters), which is the Dalarna's highest mountain and the first camp will be located near Rogens large nature reserve. We are located in a cabin or tent depending on the weather and wind.
The second stage goes further north and we expect to reach Skedbrostugan before the evening. There we get the chance to warm ourselves properly in the cabin heat and in a fantastic mountain environment.
The third stage carries it back to Grövelsjöns Fjällstation where we are expected to land sometime in the afternoon.
After the tour, we get the chance to pet the dogs and take a good parting before returning home.
This tour is for those of you who want to be part of a true dog sled experience with their own team and professional guides in the mountain environment. You will learn how a real dog team works and spend a lot of time on the sled and learn how to do well in a high mountain environment.
The guides are also Mountain Rescuers so you will learn all about mountain safety.
You run your own team of 4-6 dogs.

The day stages are between 25-40 km.

Food for you is included from lunch day one to lunch day three.

We provide sleeping bags, sleeping bags and tents if required.

If you need we can help with reinforcement garments (overall)

When booking, you will receive a more detailed program for the tour.
              5 places (2 places left).
           7900:- SKR per person.  
Includes food from. lunch day one to lunch day two.

Sleeping bag, sleeping mattress included.

Part in cabin / tent.